San Vigilio di Marebbe weather forecast
Meteorological conditions in the Dolomites in South Tyrol
The weather today: sunnday, 26 March 2023
Humid air masses from the west.
On Sunday, it will probably be changeable with many clouds and some showers are expected during the evening. Snow line falling at 1000 m in the northern regions.
Top temperatures between 9° and 16°.
The weather tomorrow: monday, 27 März 2023
The mountain weather today (Dolomites)
Humid air masses from the west.
Clouds will reduce the visibility on the mountains and some showers will pass trough during the course of the afternoon. Isolated thunderstorms can be possible.
The mountain weather tomorrow (Dolomites)
Evolution weather in South Tyrol: Windy and colder on Monday
On Monday temperatures will drop considerably. On the main ridge of the Alps it will remain changeable, towards the south it will be quite sunny. Strong north wind in many valleys. Pretty sunny weather on Tuesday, but frosty in the morning. Partly sunny weather on Wednesday and Thursday. Increasing temperatures.
Tomorrow

T. max: 3 / 15 °C
T. min: -4 / 5 °C
tuesday

T. max: 4 / 13 °C
T. min: -7 / 1 °C
wednesday

T. max: 10 / 18 °C
T. min: -6 / 1 °C
thursday

T. max: 13 / 20 °C
T. min: -1 / 4 °C
friday
T. max: 13 / 20 °C
T. min: -1 / 4 °C
South Tyrol weather today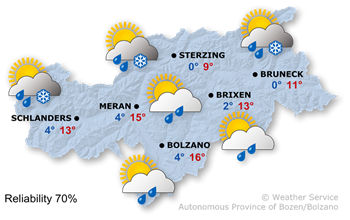 South Tyrol weather tomorrow
Update at 11:00 am
Source: © Weather Service Province Bolzano - South Tyrol